Insights and Dashboards
Intro to insights (You are here)
What's an insight?
"Insights" are pieces of content where you can combine text, charts, tables, or images to share your ideas. It can be anything you want. You can create:
Presentations
Dashboards
Recurrent reports
Insights – like charts and datasets - are stored in your repositories and can be created and edited by you or anyone in your team. Once published, they will have a permanent URL address that can be easily shared (more sharing options will be available soon).
How to create an insight
To create and publish an insight, find and click the button in the upper right of the site "Create New" and select "Insight". You can also select one of your or your teams repositories and click on "New insight" located on the upper right. The window on the left is the editor. There you can write, insert charts or format your insight. In the window of the right, you can preview your insight.
Follow the instructions already written to help you in the process. Delete them to start writing!
Headers can be included by using #, ##, ###, ####
Alphacast charts can be included by using '@chart' and '@Ncharts'. Then paste the URL of the chart you want to include
Images can be inserted using the icon in the toolbar above
Explore the toolbar for more options: Bold, Italic, Underline, Striketgeough and more
Insights are created with Markdown language. For a full reference of markdown, features see here
In order to publish the insight you can choose among all the repositories you own, your team owns or you follow. You can also select the privacy of your insight. Finally, you can publish by pressing the publish and view button.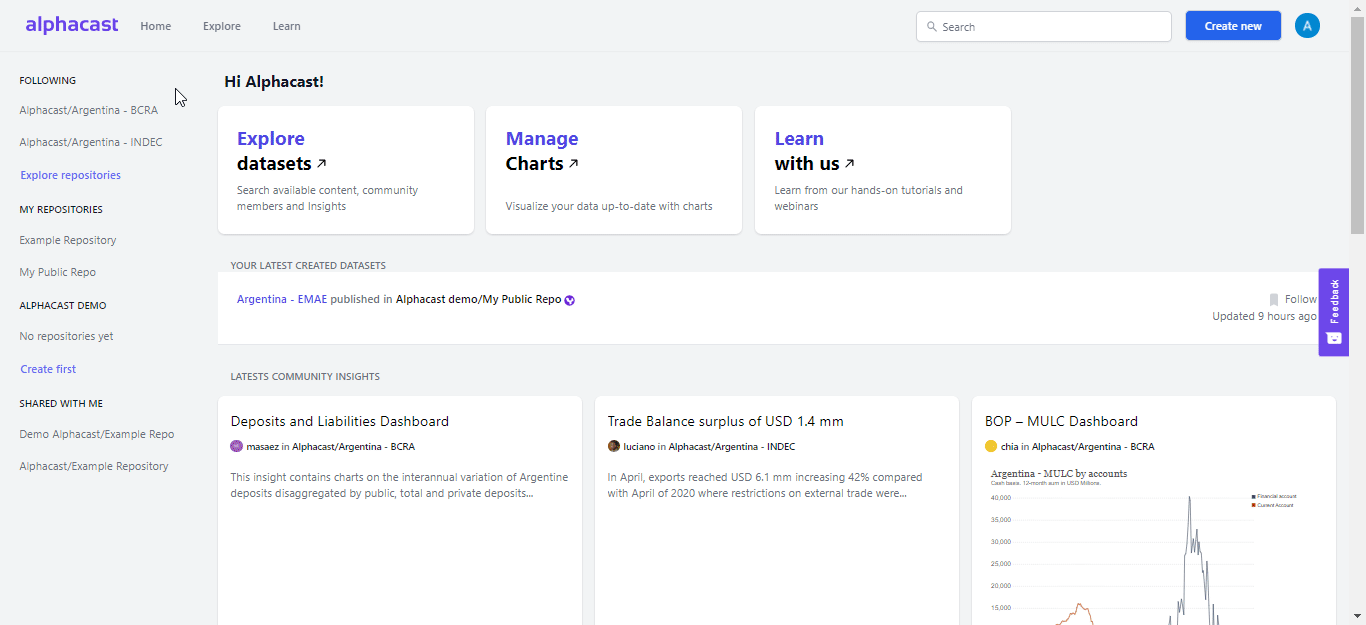 ---